About joint development
Currently, we are jointly developing with coating manufacturers and universities.
In the future, we are aiming for further development and are looking for partners who can jointly develop new coating materials and open up new markets. We welcome any inquiries such as the development of new material coating recipes.
Outsourcing of coatings and paints
We provide comprehensive support for the coating business by solving the problems of material manufacturers and coating manufacturers.
We will support a wide range of coating materials business from market research to recipe design and development. Please feel free to let us know your problems. Consultation is available here.
Market research
Coating performance evaluation and analysis
Suggestion of use
Coating recipe design
Other commercialization support such as mass production 

Example of trouble
Unseen marketability in new applications
Insufficient man-hours for technological development
No coating development know-how
you do not know where to deploy and how to deploy
Flow of contract development (example)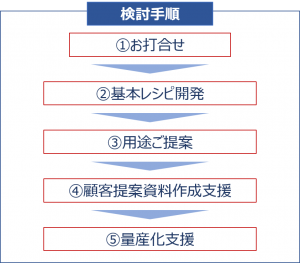 If you have any problems with this content, please contact us. In the case of outsourcing, unlike the joint development, all deliverables belong to the client.